Mijn vriendje Niels had op Facebook een artikel van surinaamseten.nl geliked. Moksie Metie Speciaal (geroosterd kip- en varkensvlees met Fa Chong worst en tjauw min). Zag er op het plaatje precies zou uit zoals ik het, vroeger in Amsterdam bij mijn oom, eens at en dat was heerlijk! Nu heb ik altijd al een keer surinaams willen koken, dus dit leek me een uitgelezen kans om eens te kijken hoe ingewikkeld zo'n gerecht is, en of ik dit zelf kon.
Eenmaal op de site zie je natuurlijk al snel dat het allemaal een grote reclame advertentie is voor Faja Lobi. Maar ach, wat maakt het uit, als het resultaat maar lekker is. Het recept leek voor een gemiddelde kok als ik best te doen, dus laten we het maar eens proberen. Mijke ging toch boodschappen doen, dus ik gaf mijn wensen door.
Onze lieve Jumbo bleek echter maar 1 potje te hebben van de benodigde 3. Nouja, normaal gesproken hadden ze de marinade wel gehad, zij het van een ander merk, maar die leek nu op te zijn. De medewerkers zochten in alle hoeken en gaten van het magazijn, maar helaas, geen moksi meti. Ja mensen, dit stukje is niet het aller spannendst wat er hier te vinden is, maar hee, er staat tenminste weer eens iets op!
De volgende dag dus na de opening van Perron 15 maar even langs de Albert Heyn gereden. En jawel hoor, daar stond ie, toevallig nog van het merk Rosita ook. Helemaal blij reden we weer naar huis, dat zou smullen worden!
Dus ik dacht ik zal Niels even laten weten dat ik het ook ga proberen, want hey, daar is social media voor uitgevonden toch?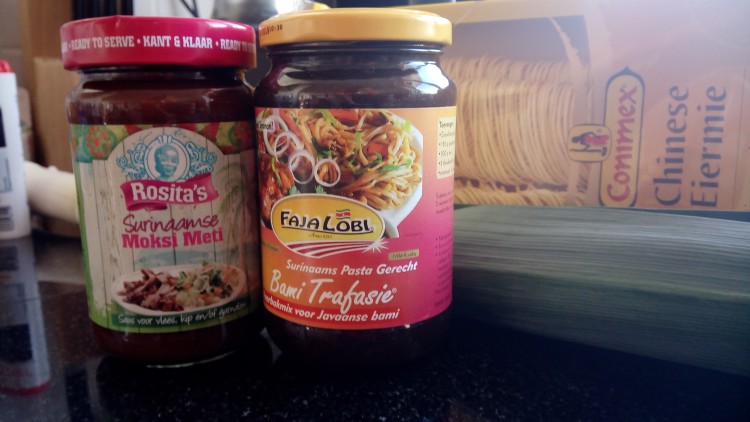 [blockquote source="Rolandow on Facebook"]Hai hai Nielsie, ik ga het proberen hoor! Bedankt voor de tip. XXX[/blockquote]
Zoiets, dacht ik.
Dus ik zoeken op zijn pagina naar die like, zodat ik daar mijn commentaar kon neerplempen, maar hey, die was er helemaal niet! En toen pas realiseerde ik me pas: ik ben erin getuind. Dit was nu precies waar zoveel commotie om was geweest. Facebook doet net of je vrienden iets leuk vinden, en: het werkt! Ik heb de spullen gekocht, en eet vanavond Surinaams.
Even voelde ik me bedonderd, maar nu denk ik, ik ga vanavond wel lekker eten! En, wat is nu eigenlijk erger? Die irritante reclame's op radio en televisie, altijd hetzelfde, dag in dag uit. Of een boodschap, aangepast aan jou persoonlijke voorkeur. Een aanbieding waar je misschien iets aan hebt?
Ik weet het, het is misschien een beetje vloeken in de kerk, want ik vind het allemaal maar niks dat Facebook en consorten alles van me weten. Maar nu het toch zo ver is, heb ik dit soort advertenties misschien liever dan die irritante Vodafone reclame telkens op de radio. Als we nou eens alle radio- en tv-commercials konden verruilen voor persoonlijke aanbiedingen, dan gaan we er misschien toch wel wat op vooruit.
Tenzij we vanavond patat eten.
Dan is het totaal mislukt.