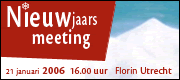 Dit jaar organiseert
Kor
, traditiegewijs, weer een
nieuwjaarsborrel
. In Florin, in Utrecht. Nu ben ik daar wel eens geweest, en dat was enorm gezellig.
Probleem is alleen dat ik die avond bij één of andere prinsen verkiezing moet optreden. Ja, met muziek hoor, niet als hofnar. Bij een carnavals vereniging die volgens mij de afgelopen jaren hard achteruit holt. Wat dat betreft verwacht ik niet zoveel spectaculairs van die avond.
En dan is het dus wel flink balen. Want als ik eenmaal zo'n nieuwjaarsborrel op heb, dan is het altijd lastig om daarmee te stoppen.
Bovendien is het zo'n anderhalf uur reizen, en moet ik om 20:30 alweer op het verzamelpunt zijn. Betekent dat ik 18:30 moet vertrekken.
Waarschijnlijk laat ik dit jaar dus aan mij voorbij gaan. Tenzij de verzameltijd nog wat verlaat wordt, of tenzij ik die dag enorm veel zin heb om nieuwe weblogvriendjes te maken.
Aan alle anderen, die wel gewoon kunnen: gewoon gaan! Meldt U aan. Het wordt vast gezellig.