De ene broer koopt twee bouwvallen, en is zeker een jaar bezig om er een fatsoenlijk huis van te maken. De andere broer, ik dus, zit er stevig aan te twijfelen om gewoon iets nieuws neer te zetten, wat ook nog wel een jaar duurt. Nu gebeurt dat neerzetten toch al, dus wat dat betreft is het alleen nog een kwestie van handtekeningen zetten.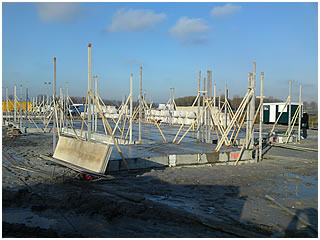 De SNS bank vindt het in principe wel okidoki als wij dit huis, met een stukkie grond, zouden aanschaffen. Vanochtend een zeer verhelderend en lang gesprek gehad met een hypotheek adviseur. Wat is het toch fijn dat er mensen zijn die er alle verstand van hebben! Maar oh-oh-oh wat is die stap toch groot en engh, en wat zijn er een hoop regeltjes en papiertje en dingetjes.
Dus nu is het wikken en wegen aan ons. Doet ie het of doet ie het niet? Stiekem hebben we dat volgens mij allang besloten, we moeten alleen nog even rekenen rekenen rekenen of het allemaal wel kan.
Gelukkig hebben we een behoorlijke stok achter de deur, want binnen ongeveer 2 weken moeten we dit wel zo'n beetje besloten hebben. Dan verloopt de optie op het huis, en de korting die we kunnen krijgen als we NU die hypotheek nemen. Ik wil je niet opjagen hoor, zegt de adviseur dan… :-)
Wordt vervolgd!